During the past 5 years we have been travel-writing and managing other websites with some good success. However more recently I have realised that our online businesses requires more direction.   Whilst in Florida I believed it was the  perfect time to speak with some experts about the digital strategy of our websites.
We decided to enlist the help and advice of Digital Marketing Agency JunkFood.co.  Whilst this agency is primarily aimed at the large Hispanic Market in South Florida they offer services to all businesses both with an online presence and without.  After a brief meeting it became quickly apparent that we had many areas to focus on if our businesses were to maximise their potential.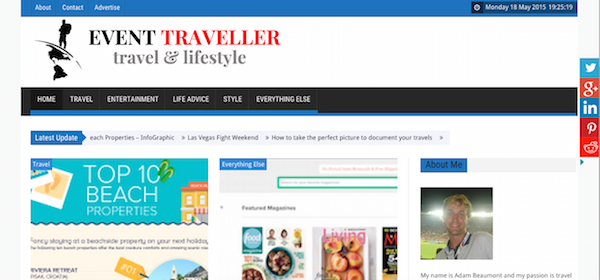 Areas for Focus
Email Marketing
Whilst Event Traveller has successfully created an email list of over 3,000 readers, we have yet to apply any basic strategy to the list.  Moving forward we have decided that we should engage with our readers on a more frequent basis.
Conversion Optimisation
As we are basic Web Designers with no real background in UI/UX, we have never viewed this as an area for focus. After speaking with the guys at Junk Food we discovered that we are missing major opportunities from the traffic of our website. Immediately after the meeting we made several changes to the website and we have already seen an increase in Newsletter Sign ups.

Pay Per Click Marketing
Another area that we have never really focused on is the PPC market. From the tips and advice given, this would allow us to gain a great return on investment if performed correctly. We are now creating a strategy based on paid marketing.
Organic Search Engine Optimisation
We are always looking at increasing our rankings on the major search engines but as of yet we have not managed to get past the 2nd page for our key terms. Whilst seeing results organically is not instant,  in order for us to reach that first page we have to focus on this sooner rather than later.
The discussion with digital agency in Miami  JunkFood.co was extremely useful at highlighting the areas that we need to focus on. We fully recommend them for any digital marketing projects.