We arrived in Windy City at 6am because we took advantage of an early and most importantly cheap flight from Phoenix, Arizona. Wow, what a difference several hours on a plane makes in the US. We went from shorts and t-shirts to shorts and t-shirts with clothes on top.
The direct Metro from the airport to downtown was a good experience as it took us literally to outside our hotel, why they have 2 stations named Grand on 2 different colour lines I will never know but I guess someone has a logical explanation.
Having checked in our Hotel we decided to take a walk around downtown and the Navy Pier area.
As I am from Manchester which is also know as the Rainy City in the United Kingdom I was expecting Chicago to live up to its word and it sure did. Whilst we were crossing the street we witnessed some funny scenes.  I don't normally upload cartoon type images to my blog but I found this very appropriate because we must have seen this on 5 different occasions. 
As a City
Chicago is a beautiful city in the centre, the same cannot really be said for the west, I guess everywhere has bad areas, Chicago more than most I guess. The high rise buildings in the centre are impressive to say the least and I can only imagine the view from the top on a clear evening to be special. We tried to enter the Willis Tower (formerly Sears Tower) but because a storm was coming we were not allowed to go to the top. I thought this was strange so I decided to do some research and found this stunning picture online of the  tower being struck by lightening.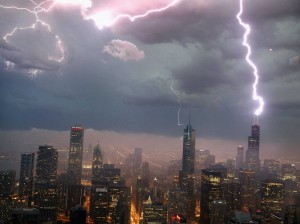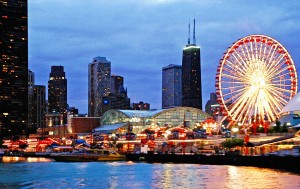 Next on our plan was to take a walk to the famous Cloud Gate. I will upload more pictures later but I guess you get the idea of what this attraction is. Great for Photos by the way.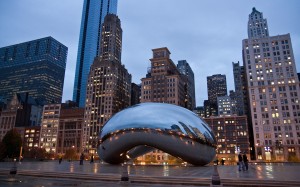 Food
Whilst we didn't really find any authentic chicago food, this is what we had in the time we was there:
Chipotle: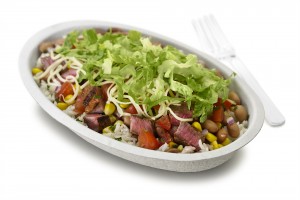 Chillis:
Va Pianos
Although you can find these restaurants anywhere in the US, we found the found here really good and recommend you to try as a visitor to the states.
Return Visit?
I would definitely return to Chicago but probably only in the Winter, it reminds me of a smaller London but having said that I have not been to New York, thats next on the plan.