Minnesota is definitely not known for it's fashion but it is starting to be known for the fact that there is zero % tax on clothes.
Whilst zero tax might not seem much, on a shopping basket of let's say $300 this saves between $15 and $40 compared to other states. Minnesota is one of only 10 states that has this tax exemption on clothes and this makes going to the mall much easier for me.
Whilst in the UK tax is put on the price of an item before the item/product is labeled, in the USA, the final tax of a product is determined at the pay point. Example. a television costing $200 on the shelf is not $200 when you go to pay for it, it calculates to over $220.
With this, when you see a price of a clothing item in Minnesota, this is the price you will pay.
We often visit the Mall of America to purchase clothes, this now draws 17 million visitors a year from out of state, in part because there's no tax on clothing.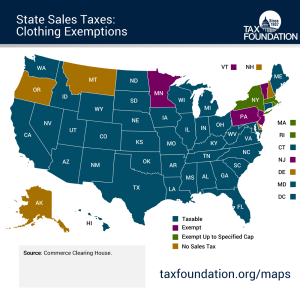 Whilst this means a lower tax revenue for the State, this means that the people of Minnesota, including myself can enjoy this tax break and get the much needed clothes we need in the winter.
With temperatures reaching up to -20 degrees Celsius, clothing is an important part of Minnesotan life.
When our families from Colombia and the UK visit, they are always extremely surprised as to how cheap the clothes are, especially the branded clothes such as Tommy, Diesel, Calvin Klein and Ralph Lauren. With this they take full advantage and ensure their suitcases are full when they return.
If by chance you are in Minnesota then make sure you do the same and get your branded clothes here rather than paying a premium elsewhere.