Today I have decided to review ranking software RankAware. The reason I decided to download this program was because of the limited options available for ranking software.
Having been an Internet Marketer for the past 8 years I have realized the only way to understand your business is to be constantly testing. With this it is important to have a clear idea what is working and what is not. In terms of SEO, the best way to understand a website is to have a clear record of the rankings. In my case I only optimize for Google UK, simply because the 99% of customers arrive from this search engine.
The free version of the RankAware program allows unlimited keywords to be checked on a daily basis. As it works in the background I simply need to start it and run the update. The clear graphics allow for me to quickly tell both on an individual keyword level and as a whole. There is also the option to schedule the monitoring to  take place at a certain time each day, I have not tested this function but I think this is something I probably will look at the future.
Whilst the free version is limited to only one website, this is still great for most businesses focusing on one website. As I  own several websites I will be upgrading my account to Expert Level which is currently on offer at less than $50 per year. The upgrade also includes several other features including the ability to have reports for clients and have technical support should anything arise.
Rank Aware is also a great SEM tool as it has the ability to search Bing and Yahoo and check the rankings in them particular search engines.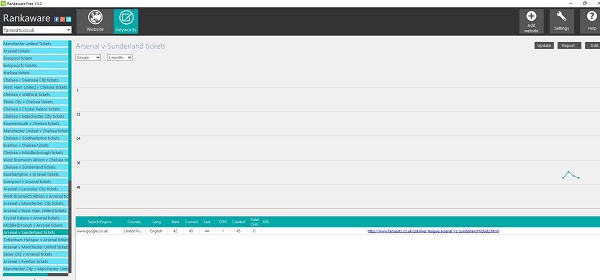 Another great function is the reporting of the program, after running the program for several days it is now noticeable that I can click through each individual keyword and see a chart of the rankings. This report is a great function as it allows me to see over time the changes in rankings.
As stated above, there are definitely other tools available on the market but none which offer such features for free and none which I have found so valuable. Since downloading Rank Aware, I am now able to monitor all my rankings in one place and this is now an important tool I will be using everyday.