Korean Air's First Class products have a worldwide reputation and this reputation is almost flawless one. Indeed, Korean Airlines provides one of the best first class services that are highly prized by passengers.
Here is a short review on Korean Air's first class on their A330 and A380 aircrafts.
Korean Air A330-300s First Class
Korean's A330-300s cannot boast of having the latest first and business class amenities but it still offers a very comfortable ride. The first class cabin on A330-300s is equipped with 6 seats configured in a 2x2x2 layout. The seats have the same width as business class seats but the legroom is three inches longer. Each seat is 21 inches wide and the legroom is 83 inches long.
Honestly speaking, the difference between the first and business class is subtle. The main difference is a lesser number of passengers (only six), exquisite meals and a great collection of wine that includes Perrier-Jouët Blason rosé Champagne. As for the inflight entertainment system, it is presented by a 15.4-inch LCD screen.
The cabin crew was very polite and friendly. All in all, Korean Air's first class product on their A330-300s is not the poshest one in the airline industry, but it definitely guarantees you a pleasant and comfortable flight.
Korean Air A380s First Class

First class cabin aboard Korean Air's flagship – A380s impresses with a unique combination of dark wood and blue colors used in the cabin design. These colours create a soothing atmosphere and make the cabin look very cozy. One more important thing that comes to the front is a spacious storage area.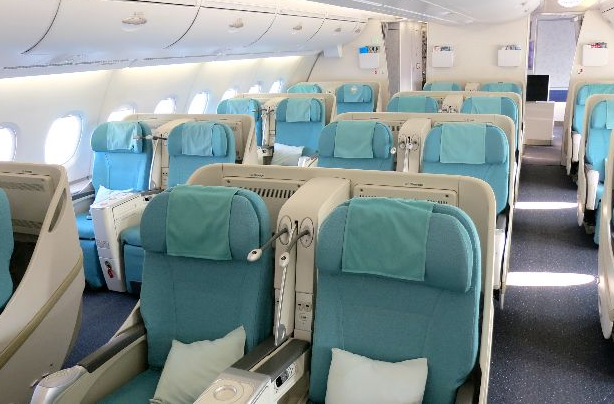 There are 12 first class seats aboard A380s, located in 3 rows and configured in a 1x2x1 layout. The 26.5-inch wide seats are pretty roomy and a 79-inch long seat-pitch guarantees a comfortable position even for long-legged passengers. In fact, a seat looks like a huge armchair and can be reclined to a lie-flat bed. A 23-inch LCD screen is the best compliment to these cozy seats. To enjoy the inflight entertainment system to the full, passengers are provided with Bose headphones.
Delicious meals served aboard A380s, exquisite wine and a rich amenity kit, crammed with famous DAVI cosmetic products are highly commendable. And of course, flight attendants were at their best.
Korean Air offers quality first class products both on their A330 and A380 aircrafts. When choosing Korean Air, you get everything you need for a comfortable flight.