Today the vibrant community of Galway on the western coast of Ireland attracts a multitude of visitors every year. This charming locale offers a wonderful vacation venue. Check out these 6 reasons why travellers enjoy spending time in Galway whatever the time of year.
One: Explore The Port on Foot
Many tourists enjoy the experience of city walking tours and Galway is no different. Head through the downtown area, Eyre Square and the Spanish Arch and on to the picturesque fishing harbor at the center of the city. Spending time admiring the beautiful architecture of older parts of the city offers a great introduction to Irish culture.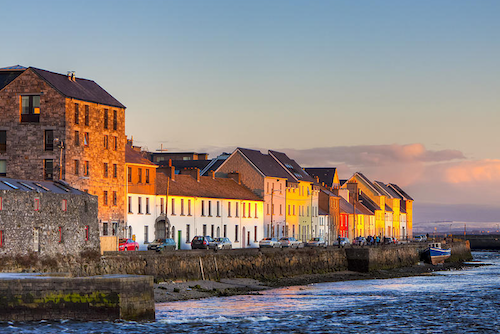 The remains of a massive wall which once protected the community now form the backdrop for a modern commercial center. With vivid scenery, and a bustling waterfront, Galway's fetching beauty captivates many people. Tourists feed swans and seabirds and savor the beauty of the Irish coastline.
Two: Enjoy the local sports
Professional and amateur sporting matches can be followed throughout Galway all year. The popular traditional Irish sports of Gaelic Football and Hurling can be found in almost any town and village, while Galway Utd and Mervue Utd attract decent crowds for local soccer games. Soccer and rugby enjoy fierce competition in this part of Ireland and the toast of the rugby support around Galway is the provincial side Connacht, who have been ever improving in recent years, bringing European rugby games to Galway's Sportsgrounds.
Three: Tour a Castle
Many tourists enjoy visiting Dunguaire Castle on Galway Bay. Constructed in 1520, this massive stone structure underwent many renovations during it history, most recently in the Twentieth Century. It has become a popular attraction. People with extra time may wish to consider touring a number of Irish castles and mansions during day excursions, in order to appreciate the variety and beauty of these fortifications.
Four: Celebrate Irish Food And Music
During a vacation to Galway, stopping at local pubs provide visitors with an opportunity to enjoy great conversation and food. At night, most establishments also host musical performances by local bands. Eyre Square is perhaps the most popular area of the city for both tourists and locals looking a memorable night out. Expedia currently offers a great selection of hotels and inns for guests seeking accommodations in the city center – you'd do well setting up camp near to Eyre Square.
Five: Discover Irish History
Many tourists also enjoy visiting the Galway City Museum to study displays dedicated to the community's rich cultural history. Centuries ago Galway endured long periods of strife. Today, some travellers take brief excursions from the city to the quaint Village of Aughrim in East Galway a short distance away to view battlegrounds from the wars of William of Orange and James II.
Six: Hit the shops
With numerous shopping opportunities, Galway delights visitors interested in perusing fashion boutiques and specialty stores. For example, The Eyre Square Centre houses over 70 retail outlets in one convenient location. Tourists also enjoy strolling through the city and stopping at art galleries, bakeries and antique stores.
A Great Vacation/
Ireland provides numerous opportunities for fun and recreation. A visit to beautiful Galway proves well worth the journey!