We have recently returned from a trip to Orlando which I have to say was probably my best vacation in a long time. We spent a full 8 days visiting everything that this theme park city had to offer. Our first stop was SeaWorld Orlando, the media guys here were kind enough to give us complementary tickets to enjoy the day.
SeaWorld Orlando truly is an amazing day out and is suitable for everyone of all ages. We enjoyed every minute of the day and would recommend this to anyone visiting florida.
The theme park offers roller coasters, rides, shows, tours, attractions & family-friendly activities for thrill seekers and animal lovers. As we visited the park in September the queues for the rides and attractions were few and far and lasted for a maximum of 15 minutes. Had we visited in July/August I can imagine this being a lot different.  The park hours are from 9am until 6pm which is just enough time to visit all the main areas. I cannot put into words this place but I can briefly summarise some of the attractions on offer that we participated in.
Antarctica: Empire of the Penguin
As we hadn't planned on visiting SeaWorld we had no real idea what we were in for. The biggest surprise of the day was the Antarctica: Empire of the Penguin attraction. This family ride is truly a one of a kind experience in which everyone will enjoy. The attraction starts with a video and 3D video and then takes you below and to a place that you never knew existed, what a surprise.
Shark Encounter
I am always fascinated by Sharks and usually disappointed my the average aquarium but Shark Encounter truly is amazing with it being the world's largest underwater viewing tunnels.
Feeding Dolphins
Probably my favourite animals and the fact that you can literally touch them and feed them here makes this a special place. We only paid around 10USD and we were given fish for us to hand feed these beautiful creatures.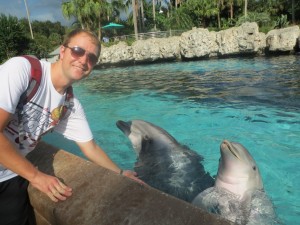 Shamu Rocks
What an amazing show where Killer Whales literally do all sorts of stunts which are orchestrated by fantastic carers. The height they jump to and precise timing they show is truly amazing, be careful if you sit close to the front you will get extremely wet. This show truly is fantastic and unforgettable for the whole family.