Just when you thought that Central America's travel gems lie only on the upper regions like Monteverde; well, you haven't been to the small town of Panajachel on the Western Highlands of Guatemala.
Panajachel is only located 90 miles from the capital Guatemala City and is truly gifted with amazing scenery courtesy of the scenic Lake Atitlán.  This beautiful town it is currently enjoying a boom in the tourism industry, with this the local population embrace any travellers visiting the area. The local people are hospitable, friendly and always have a smile on their faces.
The most popular tourist spot on the Panajachel highlands is no other than the world famous Casa Cakchiquel on Calle 14 Febrero. This is just a short walking distance from the Corner of Santander if you book a cheaper hotel there instead. There is  fantastic lake backdrop and the perfect atmosphere which is truly mesmerising.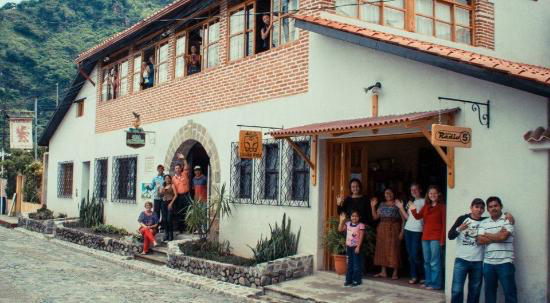 This historic house dates as far back as 1948 and was one of the first built on the lake.  It has quaint feel that the likes of Ernesto "Che" Guevara and Ingrid Bergman enjoyed.  Major restorations have been completed on the 'casa' but it is still as elegant as it was.
Another popular tourist favourite is scuba diving on Santa Cruz village in La Laguna. This is freshwater diving and is great for beginner divers.  Underwater is clear and  you will be amazed by the landscape brought on by the active volcanic lakebed. You can even feel the heat rising from the ground offering a remarkable and exhilarating diving experience indeed.
Several places in Panajachel rent kayak, this is definitely the best mode of transport for those wanting to into one of the popular high-cliff diving areas of the lake. The lake waters are calm and offers perfect kayaking experience. As with anywhere in the world, if you do decide to cliff-dive, please be careful and not to jump close to the rocks nearby.
The lakeside also offers fantastic hiking and biking trails. Mountain bikes are readily available for rent such as the ones offered by the Kukulkan Adventure Center. Hiking is preferred by most tourists though since you can only reach the areas with breathtaking lake views by foot.
You can also visit the popular Atitlan Nature Reserve which is also perfect for walking and the butterfly sanctuary that is part of an old coffee 'finca' is simply fascinating. There are coatimundi (Racoon Family) and monkeys walking on hanging bridges leading to the waterfall or private beaches. This is also perfect for birdwatching since there are many species of birds in the park.
Have fun and don't forget to bring your ESTA (Electronic System for Travel Authorization) Visa with you for an incredible and hassle free fun adventure. Know more…