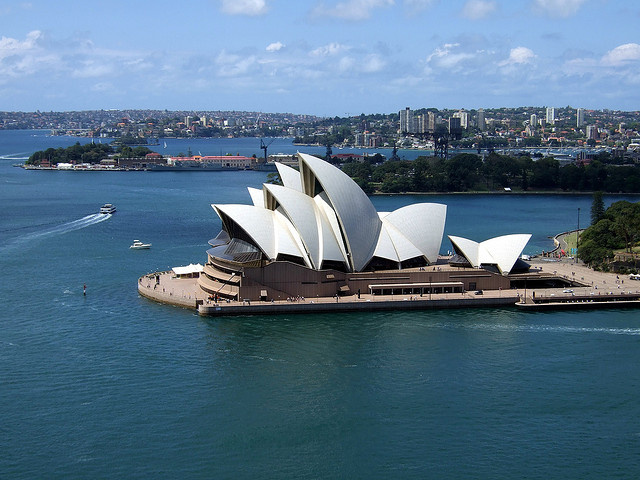 If you're tired of the cold, harsh winters where the days only seem to last a few hours, then it may be time to consider a move to somewhere like Australia. OK, a move may seem a bit drastic, but why not think about an extended visit for a month or so? Whether you're a sports fan or a wildlife enthusiast, Australia has got it all. Many people think that a backpacking trip down under is an essential rite of passage for everyone. If you are in the position to do it, then it's definitely not an idea to be snuffed at. It's a big decision that requires a lot of thought so here are a few reasons that may help persuade you to bite the bullet and do it.
Landmarks
Australia is the sixth largest country in the world with a highly varied and beautiful landscape. It has got urban areas, mountain ranges, deserts and rainforests. Within all this there are some of the most remarkable landmarks in the world. One of the weirdest but most stunning has to be Ayers rock, situated in the heart of the Northern Territory in the world heritage site of the Uluru-Kata Tjuta National park. This great natural landform is traditionally called Uluru and is the World's largest monolith. What's a monolith? It's a stone separated from its strata. Much of its mass is hidden below ground yet the exposed portion still stands tall above the Earth at a whopping 348 metres. To get a good view you can take a helicopter tour or if you want to get down and dirty you can explore it on the back of a camel.
by  david55king  Caption: Ayer's rock, the world's largest monolith.
If you're a sports fan, then be sure to check out Australia's most famous stadium, which is the Melbourne cricket ground. The MCG hosts Aussie Rules Football from April to September then, after the Grand Final, it is home to cricket for the rest of the year. The national sports museum is also found here. For a country with such a rich sporting history, this is not to be missed.
One of the most famous landmarks and up there with the world's most recognisable and iconic buildings is the Sydney Opera House. It's one of the most popular tourist attractions in Australia with more than 7million people visiting it each year. It came about from an international design competition with designers from 32 different countries taking part. The winner was a Danish architect named Jorn Utzon. Work started on building the opera house in 1959 and it was finished 14 years later in 1973!
Along with these amazing landmarks, Australia is also home to some incredible beaches. Bondi beach stretches 1km along the coast and is celebrated for its sun, surf and sand community. Although there are Great White Sharks in Australian waters, there's only about one fatal shark attack per year. So, get in the water and try out some surfing.
Sports
Sports fan or not, on a visit to Australia it is well worth checking out their national sport of Australian Rules Football, which is better known as Aussie Rules or the AFL. It looks a bit like rugby at first glance but it is very different and totally original. The game is played on a massive oval pitch and teams must try and score goals by kicking the oval-shaped ball between two tall posts. They can move the ball about using any part of their bodies but when running with the ball they must bounce it or keep touching it on the ground. Sound confusing? It's best to just go and watch a match and see it for yourself. This sport breeds highly athletic players with a combination of speed, strength and skill. Interestingly, it started as a way to keep cricketers fit throughout the winter. The AFL Grand Final is the biggest day of the year in the sporting calendar Down Under and a visit to the MSG to join the other 100,000 supporters makes for a fantastic day out.
As well as Aussie Rules, the Australians are huge fans of rugby and cricket. Here is a good place to watch some people who know how to play the sports. If you're lucky enough to be in Australia during the Ashes against England, you can go and enjoy the atmosphere at one of the world famous cricket grounds amid one of the fiercest rivalries.
Wildlife

The top ten deadliest snakes in the world can be found here, and the famous Koala bears are in danger of extinction, but don't let that put you off. Some of the most amazing wildlife in the world can be found Down Under. Did you know that the kangaroo population is higher than the human population? If you are an animal lover, then be sure to check out Australia Zoo on the Sunshine Coast in Queensland. It was opened by the late Steve Irwin's parents in 1970. Irwin was the famous Australian who used to star in the Crocodile Hunter TV show and died at the hands of a stingray. Now it is owned by his wife; Terri Irwin. The zoo won the Major Tourist Attraction category in the Australian tourism awards in 2003-2004.
Along with all these great attractions and things to do, on top of it all are the fantastic weather and friendly people. And there are so many other features of this beautiful country that really make a visit Down Under the trip of a lifetime. So, if you can afford it, and you have no ties back home, then it really is a good idea to just go for it and embark on the journey. You won't regret it, but you probably would regret it if you missed out on the opportunity.