Yum-yum… Barcelona is the city of foodies. So, you can undo your belt because I am going to provide you with some genuine and amazing drink and food tours in Barcelona below. However, you won't find any of these plans in any super guide for foodies, but at Trip4real, the platform that connects travelers in pursuit of unique experiences in Europe with local experts who want to show you their city. Bon appétit! 
Riding a vintage bike through the most authentic wineries
If you want to savor a good home-made vermouth, a well-brewed beer or a once in a lifetime tapa, there is no better place than the classic neighborhood winery. Being classic is in fashion and these wineries now (luckily, we have enough local fashion) are the best among the best and are a pilgrimage hub among Barcelonans to have vermouth every Sunday. Some ritual it is. But there are many wineries all over the place that Juan Arturo and his friends, some guys who are passionate about the retro and a good drink, have created an amazing route on vintage bike across different wineries of the city. An ideal plan to carry out with one's friends. However, watch out for the beers you take, for you won't test positive. 😉
Do you dare to do go out to eat with the most famous gangster of Barcelona?
I don't know if you have what one needs to go eat paella with Dani el Rojo, the most notorious gangster in town, but I assure you that the plan is worth it. It certainly is worth the trouble because getting yourself acquainted with Dani's life is quite an experience: over 100 bank robberies (no deaths) during the 70s and 80s, being the bodyguard of Leo Messi and other prominent personalities like Calamaro, authoring 3 books related to success and now taking his first steps into cinema… It is a give and take relationship. And it is also worthwhile because you will be able to try out one of the best paellas of Barcelona at one of the most traditional "chiringuitos" (kiosks) in the best location (in front of the ocean), el Escribà. An advice: don't contradict him, no matter what he says…
Food from orchard overlooking Barcelona in a private home
Now then, to know the true essence of Catalan gastronomy, the best thing is that somebody opens the doors of her house for you, lets you enter her kitchen, tucks up her sleeves and teaches you to cook any of their most traditional dishes (always with a good cup of wine). As Sonia, a very amazing and genuine cook, who opens the doors of her wonderful house on top of the city to cook together –with freshly picked up products from her amazing garden products – and later enjoy a meal in her garden with some breathtaking views of Barcelona. If you come across even one restaurant in the world that provides such a gastronomic experience, please do let me know.
Having tapas in the bohemian district of Gràcia with a foodie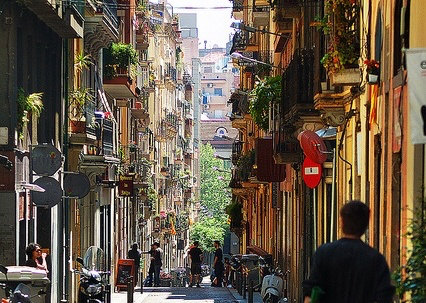 What does a visit to Barcelona mean if you don't go for tapas? The problem (damned problem) is that there are a thousand places to go, but one must very well know where. I personally love Gràcia, the bohemian district of Barcelona known for excellence and that boasts of a peculiar idiosyncrasy. Well, there are many wineries (like el Quimet or la de E. Marín) or bars as genuine as the Gata Mala (they throw the beer you are crazy for and provide you with a tapa for every small glass of beer) or la Pepita (their sandwiches are divine!!!) to go to and eat tapas in its narrow streets and squares. However, what's better than going along with a foodie like Britta, who has a sixth sense to detect local bars that serve good food? But, only if her glass of cava is never empty.
Sound and taste concert
Sharpen your senses, for it will be hard to have a gastronomic experience like this in the city. Music and food become one in a performance by Adele Madau, a prominent contemporary musician, who won't go unnoticed by you. During the dinner – which takes place in an artists' studio – every dish you taste comes along with a music performed live by Adele, who reproduces the sounds arising during the preparation thereof, reinventing and mixing them with the sound of her violin. Forget about sharing jokes while having dinner, for it is advisable to remain silent so as to be able to focus on your senses.