Whilst I was in Buenos Aires, I wanted to explore the Argentinian culture a little more. I enjoyed my time eating the finest steak and best red wine but I wanted to go further of the city out and meet typical Argentine Gauchos.
Gaucho is a loose equivalent of the North American "cowboy"  and is the name given to the people whom live in the Pampas of Argentina with their horses. These Gauchos tend to have big areas of land and the finest cattle in South America. Gauchos still are an integral part of the ranching areas of Argentina.
Gauchos are a national tradition of Argentina and therefore I wanted to meet with them, speak and enjoy a day on a horse.
The tour I booked on was through a local company in the hostal I was staying at. The price for the full day including food and transport was less than £60 which I thought was great value considering it was a full days activity leaving early and returning back late evening.
I travelled with 2 of my Canadian friends Will and Abigail and we met up with an authentic Argentine Gaucho who was our guide for the day. His English was limited but so was our Spanish so the level of conversation was basic but enough for us to enjoy ourselves.
After riding for what seemed like 20 km we stopped off to have a BBQ steak (Asado en Spanish) which was one of the best meals I have had in South America. We were accompanied by his two sons and his wife who prepared the meal for us. Argentinian hospitality at its best. After drinking some red wine we were off to ride some more and meet up with some more Gauchos whom were all welcoming and excited to show us their culture and traditions.
The clothes of the Gauchos are the same as they have been for centuries and the folk music and dancing we were told was the same.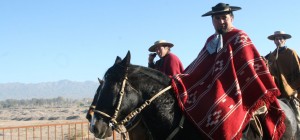 Whilst I had an excellent time and never thought for one minute about being involved in accident I did research horse riding insurance when I returned just incase I ever went horse riding again. I found a company not to far from my families house Stoneway Insurance services which I found were very competitive. I guess when you are young you do not really worry about consequences but I am now reaching that age when I plan more in case something did go wrong.
This was a fantastic experience and I would recommend this type of day trip to anyone that has a free day in Buenos Aires and wants to know about the life and culture of Los Gauchos. The value for money is great and the friendliness of the Argentinian Gauchos was 1st class. The day was also a fantastic way for us to practice our limited Spanish and to get away from the hustle and bussle of the fantastic city of Buenos Aires to a place called the Estancia.