Since the draw was made several months ago people from all around the world have been waiting for this game to start. How would Cristiano Ronaldo fair against his old club? How would Ferguson and Mourinho fair against each other in another major tournament?
As soon as I realised the game was taking place in Madrid first I instantly booked the flights to ensure that we had the lowest fair and not pay over the odds like friends did closer to the game.
Madrid itself is a fantastic cosmopolitan city with a truly international feel and fantastic bars, restaurants and things to see and do.
We arrived the morning of the game and you could already feel the atmosphere building. Even the taxi driver was excited for the match and I asked him why they never refer to who we call Ronaldo as just that but instead Cristiano. He tells me the reason is that the fans of Madrid, the Madridistas do not want to call their star player by the same name as their bitter rivals striker of 15 years ago, the Brazilian Ronaldo.
The rivalry between Real and Barca never surprises me, there truly is no lost between these two clubs.
After we enjoyed time eating and drinking with the very hospitable Real fans with some of the finest Chorizo and Jamon Serano I ever did eat we made our way by taxi to the stadium Bernabeu.
This stadium feels like it is in the middle of the city center with houses and apartments less than 100 meters for the stands. By far this is one of the best stadiums in the world and when completely sold out the atmosphere generated compares to the best I have experienced.
Even for footballing neutrals this was a fantastic game of football that was played at the same tempo in the last minute as it was in the first. Cristiano looked at threat at goal all night but it was Danny Welbeck that put United in front.The equalising goal from Ronaldo was a fantastic header in which he jumped so high it looked like he was on the shoulders of Patrice Evra.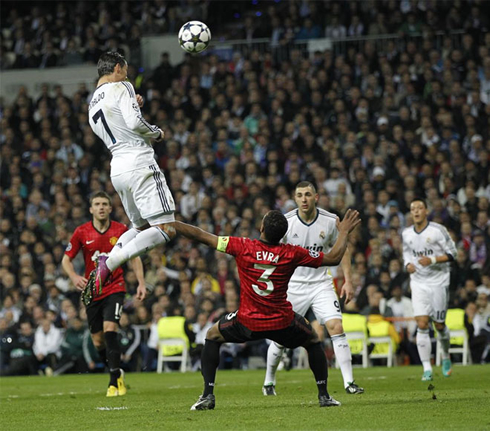 The game was a tactical battle between Sir Alex and Jose and was end to end stuff. Overall this was a fantastic game and one which I will not forget.
So now we wait for the 2nd Leg at Old Trafford which promises to be the same but with Manchester United at home with fans behind them they will undoubtedly attack more which can be dangerous considering the speed at which Real Madrid have been counter-attacking recently.